A Guide to Buying Backhoe Loaders
John Deere backhoes are a type of excavation equipment used to dig. These typically have a digging bucket, as well as an arm. They come with a wide array of features, including those specifically designed for safety. Let's take a look at John Deere backhoes, as well as the different model types and how they can help you.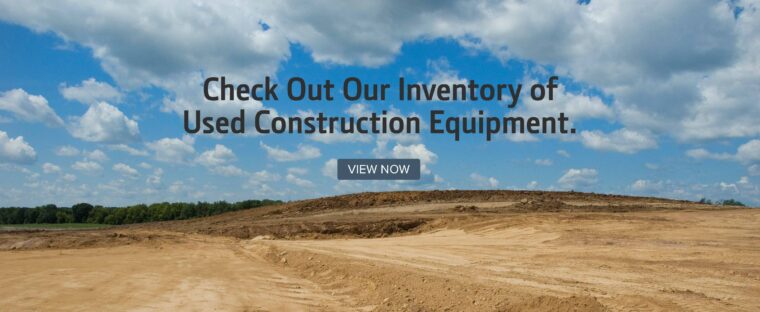 What are John Deere Backhoes and Backhoe Loaders?
John Deere backhoes and backhoe loaders are valuable pieces of construction machinery used for excavation. They can be found in a variety of settings, such as on small and large construction sites, on a farm, or at a residence. In addition to their excavation use, they can also be used for carrying light loads, landscaping, and even paving. All models of John Deere backhoes and backhoe loaders are equipped with different features for safety, efficiency, and more. 
Let's take a look at these different models and how they can be used.
John Deere 260B Backhoe
Tractor owners can use the 260B backhoe at their disposal. This model is built on the concept and design of prior models, however, the 260B was created in order to improve the power and productivity that operators need so they can tackle different projects.
John Deere 270B Backhoe
Those who are looking for a backhoe that can handle jobs with power and efficiency will want to take a look at the John Deere 270B. This specific model of a backhoe can reach 10 feet, and dig 7 feet. It has a load height of more than five feet, and it's also extremely easy to maneuver on the go.
John Deere 310SJ Backhoe
The John Deere 310SJ backhoe has a large range of motion, can load as high as 11 feet, and can also dig a depth of over 14 feet. This model has a 4045T industrial engine that also has 92 horsepower. In addition, the engine has a Turbocharged aspiration, as well as a net maximum torque of 282 pounds per foot. The 310SJ model comes with a powershift transmission that has four different gears that move forward and three that move in reverse.
John Deere 310SL HL Backhoe
The John Deere 310SL HL is an option for a backhoe that delivers up to 25% more lift capacity when compared to K-Series models under similar conditions. With special features such as Lift Mode, operators can experience a productivity boost with ease.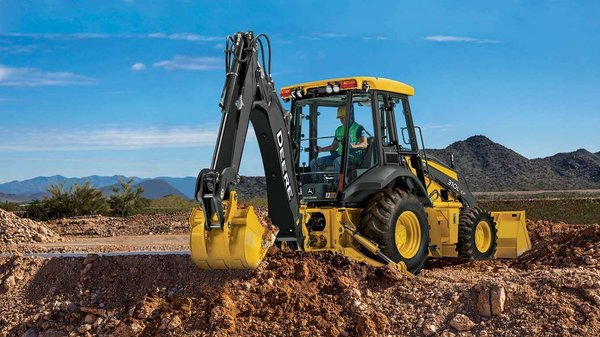 John Deere 310E Backhoe
The John Deere 310E has a smaller range of motion on its backhoe. Despite the lower range of motion, it has a much higher max dump height of over 11 feet. It also has a load height of 10 feet 9 inches, with a swivel reach of 17 feet 8 inches. It has a dig depth of 14 feet 3 inches, with many additional features. 
The JD 310E backhoe has a tier 2 PowerTech™ 4045 Industrial Diesel Engine that contains 76 horsepower as well as a net maximum torque of 218 pounds/foot. In addition, the John Deere 310E backhoe has a 4-speed, as well as a helical cut gear, and a collar shift transmission. It is synchronized in all gears with a hydraulic reverser. 
John Deere 315 Backhoe 
The 315 Backhoe was designed so that operators can use these machines comfortably. This model in particular has extra legroom as well as a more comfortable seat to achieve that. For this reason, it is easier for users to rotate between the loader and backhoe operations. The pilot towers have also been taken into consideration and are designed to feature fingertip electro-hydraulic controls, which simplifies operation.
John Deere 370B Backhoe
The 370B has different features from other backhoes. It has stabilizers, boom and swing locks that are accessible from the operator's seat. They also have a large, easy-access step and hand brace. It has an upgraded valve which helps to provide smooth hydraulics for precise control. 
John Deere 375A Backhoe
The 375A backhoe utilizes machined-metering grooves which allow smooth operation and precise control of different functions. It also has an improved feel as well as feathering capabilities. Additionally, it has a strong sub-frame that ensures the tractor frame can handle the forces created by digging and transporting.
John Deere 385A Backhoe
The John Deere 385A Backhoe also utilizes valve spools that have machined-metering grooves. This allows smooth operation and precise control of functions. This specific model has very similar features to the 375A backhoe.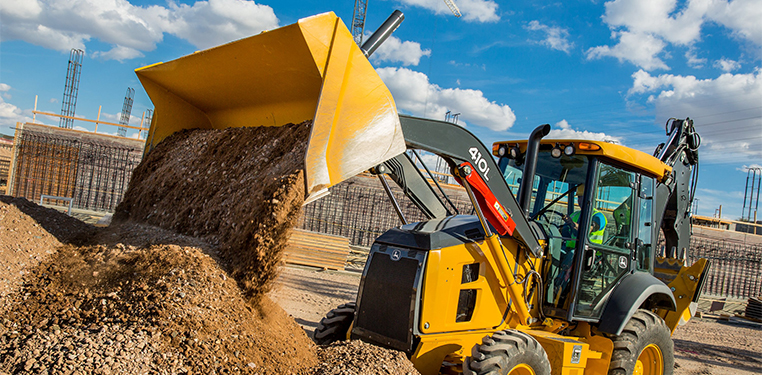 John Deere 410L Backhoe 
With the John Deere 410L Backhoe, you can get more done on an average day than ever before. This backhoe has a 116 horsepower engine output, with a max standard dipper stick digging depth of 15 feet 11 inches. This backhoe can take on even the deepest of trenches.
John Deere 485 Backhoe
The mounting system makes hooking up the 485 backhoe a simple and quick task. This model has a unique 4-point quick-attach system that allows you to install the backhoe from your seat. 
John Deere 595 Backhoe
The 595 backhoe has a 180-degree swing which provides the operator with increased productivity, as well as Quik-Tatch mounting for simplified mounting and dismounting. It also has a more comfortable operator's area which is also used for increased productivity.
John Deere 710L Backhoe
The John Deere 710L is a backhoe loader that has an over 17-foot dig depth. The model, which is part of the lineup of L-Series Backhoe Loaders, can take on any project from trench digging to breaking up concrete.
48 Backhoe Attachment
Large-property owners, as well as commercial contractors, can take on all kinds of digging projects with the John Deere 48 Backhoe in their fleet. It is designed for easy and convenient operation, top-notch digging force and depth, and excellent productivity.
John Deere BH Model Backhoe Attachments 
The John Deere BH7, BH9, BH10, and BH11 backhoes all have 7-foot digging depths. They are compatible with small and medium-framed units, and easily hooked up to the skid steer or CTL as long as there is a backhoe mounting kit installed on the front.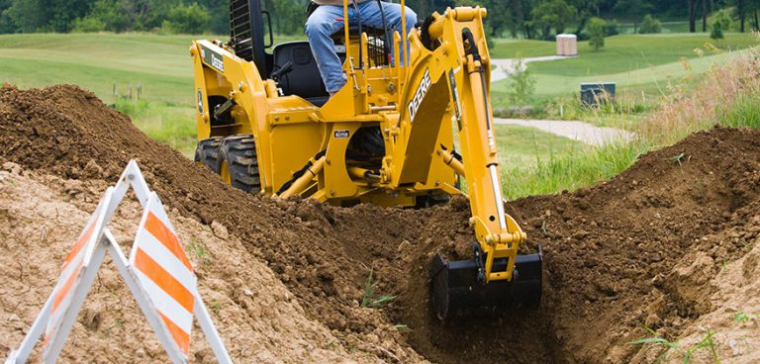 Backhoe Safety Tips
Before Operation
Before operating a backhoe, it is important to follow these steps:
Check any and all operational controls in the cab of the machine.
Make sure you buckle up with a seatbelt before you start the engine.
When you first start and begin maneuvering the machine, you'll want to make sure you keep the backup alert turned on.
During Operation
When you begin operating the backhoe, it is crucial to make sure you do the following:
Reduce speed when working in busy areas, or while on rough terrain to prevent collisions.
Make sure your bucket is low so you can maintain maximum visibility, especially when traveling on slopes.
Don't allow more than one person to enter the cab since the backhoe is only designed to have one operator. 
Instead of driving forward up a slope, back up the slope. With a backhoe attached to the vehicle, the majority of the weight will be on the rear of the machine. 
Avoid making turns when on a slope. This will help to prevent any machine from overturning. 
When utilizing a loader, make sure the loading surface is smooth to reduce the odds of a machine tipping over.
In order to prevent cave-ins near the excavation site, work perpendicular to the site. Alternatively, you can work at a slight angle so that extra weight is kept away from the edge.
Before you set up to dig, make sure you have stabilizers with a solid base to rest on.
After Operation
After you're done operating your backhoe, it's necessary to take some additional precautions to make sure that not only is the machinery safe, but that you remain safe. Here are some tips for post-operation of your backhoe.
Make sure your backhoe is parked on a level surface when you are preparing to shut it down.
Move the F and R levers back to neutral, and set on the parking brake.
Lower the front backhoe attachment to the ground.
Use the turbo cooldown feature if possible. This helps you slow down the engine before turning it entirely off.
Once the engine is turned off, make sure to move the hydraulic levers in order to release pressure; this ensures the attachments are not in a moveable position.
Final Thoughts
As we've seen, John Deere backhoes have a wide range of features, which make it a simple and easy-to-use machine for not only commercial operators but for those with larger yards as well. If you have any questions about John Deere backhoes or would like to know more about how you can get your own,  you can contact your local John Deere dealer.
If you enjoyed this post or want to read others, feel free to connect with us on Facebook, Pinterest, Twitter, or Instagram!